DOC are very concerned about the number of pirate tracks in the area, and they have recently erected signs and felled trees to close a pirate track near Camp Saddle.
The Craigieburn Trails team are keen to work collaboratively with all users in the area. This started with the stakeholder meeting held at Castle Hill Village in June 2018 which identified a range of issues and future needs.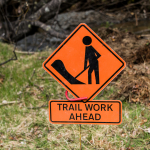 Key outcomes from that meeting included:
Understanding that demand for more challenging tracks is increasing rapidly
A need to move quickly to engage with the pirate builders and incorporate their ideas in our plans for new trail development
DOC and the trails committee are currently working on tackling this problem, including:
A strategic plan which includes a future trail development, both within the valley and further afield
An ecological survey to identify which areas of the valley are suitable for increased usage and which are not
A clear process, that the public can be directed to, around ideas for new trails
It's important to spread the word that pirate trails impact on the environment and could jeopardise future access to this fantastic area.