Castle Hill Village
Castle Hill Village began as a development in 1982 when the then owner of Castle Hill Station, John Reid, conceived a plan to create a high alpine village on an area of farmland near Thomas Bush beneath the Craigieburn Range as a centre for recreational activities in the area.
Since its inception the village has steadily grown and at the start of 2014 contained 126 houses. Most of these are seasonal holiday homes with only a handful occupied by permanent residents.
A range of holiday houses are available to rent in the village.
Rental listings can be found on the Castle Hill Holiday Homes website.
Note: There are no commercial shops in the village for food or fuel.
Accommodation elsewhere in the Basin
Camping is possible at the Mistletoe Flats Campsite (also known as Broken River Campground). Nestled in the beech forest just off State Highway 73 at the bottom of the Broken River Skifield Road, there are picnic tables, an open shelter, toilets and water from Cave Stream. Children 5-17 are $3/night, while adults are $6/night.
For groups, in summer Cheeseman Ski Club offer Snowline Lodge. Snowline Lodge is 12 kilometres from State Highway 73, 1550 metres above sea level and sleeps 68 people in 13 bunkrooms.
Lower down the Cheeseman Skifield Road, Forest Lodge is nestled in the tussock near beech forest handy for both Dracophyllum Flat Track and the Hogs Back Track; it sleeps 38 people in 7 bunkrooms.
The Canterbury Environmental Trust run the Environmental Education Centre of New Zealand near Hut Creek Track off the Broken River Skifield Road and offer bookings for both Korimako Lodge (sleeps 28) and Kea Cottage (sleeps 6). $15/person/night with a minimum charge of $120 for Korimako Lodge and a minimum charge of $50 for Kea Cottage.
Kura Tawhiti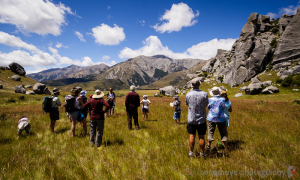 The grand limestone rock battlements of Kura Tawhiti led early European travellers to name the area Castle Hill.
Climbers, families, students, scientists and travellers have always been drawn to this spectacular place, to explore its natural, cultural, historic and recreation values.
Bounded by the high mountains of the Torlesse Range to the east and the Craigieburn Range to the west, the limestone tors of Kura Tawhiti Conservation Area dominate the Waimakariri Basin, Canterbury.
Cave Stream
A 594 metre long cave within Cave Stream Scenic Reserve is one of the most outstanding natural features in the Canterbury region.