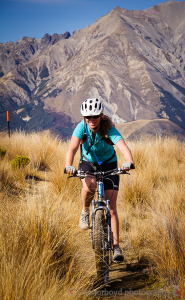 The Castle Hill Community worked with the Department of Conservation for six years to begin construction of a track within the Craigieburn Forest Park connecting Castle Hill Village with Texas Flat on the Cheeseman Ski Field Road. The majority of the track construction was carried out in a series of community work parties over the 2010/2011 summer.
The track is approx. 8 km of single track able to be used by walkers, mountain bikers and skiers to access the backcountry.
Route Description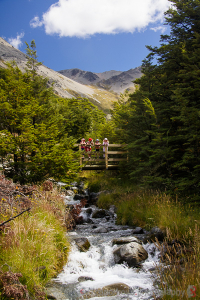 Start from Texas Flat on the Cheeseman Skifield access road. Currently the suggested way to loop this track is park at Castle Hill Village, ride 2.3km north along SH73 and 4.7km up the Cheeseman Skifield road.
Straightforward switchbacks up Ernie's Mistake take you up through lovely tussock to the high point of the track at Picnic Rock where there are great views across the Castle Hill basin. After navigating the Ground Effect switchbacks, undulating beech forest and open tussock takes you to the bridge at Waterfall Creek. A rocky section then leads to open alpine meadows before back into the beech forest and a ford at Long Creek. A couple of shingle fans and a steady climb up to the remains of the Lightning Tree before a rolling downhill across more tussock and then dropping more steeply through the beech forest of Thomas Bush to finish at the car park on the outskirts of Castle Hill Village.
Note: If you're riding in reverse, you are recommended not to ride the first bit of uphill through Thomas Bush from the car park, but instead to use the Easy Out track to regain the Hogs Back Track higher up on Long Spur. The Easy Out track starts approx only 50m further up the Water Intake road from the car park.